Call: 07777 697723
EMAIL: Andrew1Hooper@btinternet.com

Roof Moss Removal and roof clean
Treat your Roof
Roof Moss Removal and Gutter Cleaning
Roof Moss Cleaning. Hertfordshire / Essex / London
On the right is a Jet washed roof moss removal and roof clean carried out in Hertfordshire followed by roof moss treatment, the roof moss treatment is sprayed on and helps to prevent the roof moss build up from returning, the above roof will now dry after rain as can be seen where the roof moss removal and clearing has been completed giving the roof a longer life as the damp held in the roof moss will freeze durring winter and hold damp on the roof in other months make the roof tiles delaminate and breakdown the composite that make the roof tile,
Roof and Gutter clean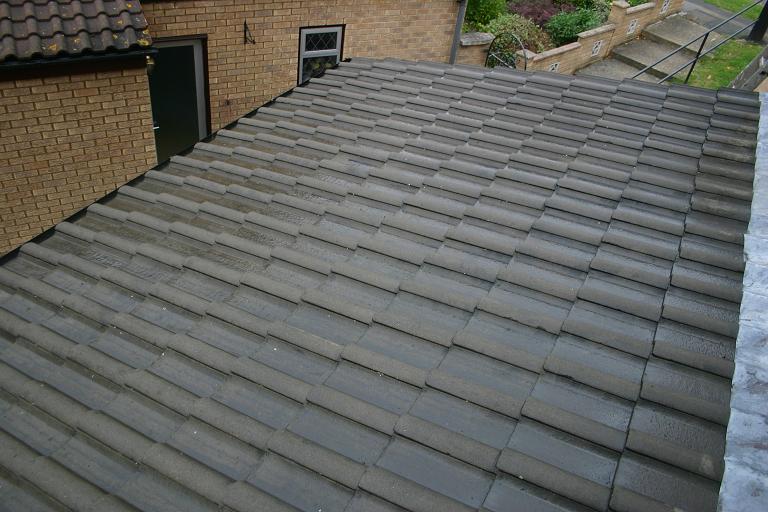 Roof Moss Removal
Roof moss is becoming a big problem caused mainly by the composite roof tiles used for the past 50 years, concrete roof tiles break down over time and become porous allowing moss to attach its self to the roof tiles causing the tiles to remain damp and speeding up the deterioration of the roof tiles.
Cleaning the roof moss will extend the life span of the roof and prevent the unsightly moss blocking gutters and falling onto lower roofs or conservatories. Please call if you would like a free quote to have roof moss cleared and the roof cleaned. Whilst cleaning the roof we always clear and clean all the gutters fascias and soffits giving the roof a fresh start. Gutters full of moss become very heavy when the moss is wet so creating futher problems with the guttering and fascias often preventing the guttering working properly in heavy rain and allowing water to spill over the top of the guttering causing further damage to the property. Preventing is better than cure so having roof moss cleared at an early stage will always be beneficial to the roof, guttering and whole property in general.
As can be seen from the picture of 1 of the 100s of roofs we have cleaned moss from the roof is given a new lease of life, with the roof moss cleaned the roof can now function properly and not having the roof moss on the roof prevents the dampness staying on the roof which will freeze over winter and cause more damage to the tiles. As roof moss starts to build the process gets faster and fast known as the snow ball effect, moss will then start to fall from the roof into the gutters cause the guttering to not fuction properly and again holding the damp, as the roof moss is damp this damp air then radiates down around the house making the property feel more damp and miserable. As is well know damp air can cause breathing problems with all age groups, so for these reasons removel and clearing the roof and gutters off roof moss build up can only be of benifit not only to the property but also to the health of the people that live in the property.
Roof MossCleaning
Roof Moss Cleaning Hertfordshire, Essex, Cambridge & London
Thats better, I'm sure my car runs better after a good clean so why shouldn't a Roof work and feel better after a good clean with the removal and cleaning off of all roof moss
Please Click to return to Main Page