Please click on this Link to view our comprehensive Roofing Portfolio
3 Velux installed in Great Totham Essex, above Velux roof window installed in Crouch End London
Velux Roof window Upgrade SERVICE
White internal finish Velux Windows
Call today for a Free Quote on Velux Roof Window New
Glazing, see the light see the diffrence
Above Velux roof window installed and carried out by our installer with our glazier service in Crouch End, North London

Above is a full velux replacement up grade to a property in Bishops Stortford that 2 x MO8 and 2 x P10 GHL & GPL Pine velux windows where replaced in the new GHU & GPU White finish.
Above the sealed glazing units have broken down on the 12 year old velux windows, the windows are still in good order so it is more practical to replace the velux glazing units. The glass window units can be replaced/ installed from inside the loft room/Loft extension. We also carry out a Velux replacement service which can often be more practical on Velux windows over 20 years old.
Velux MO8 Replacement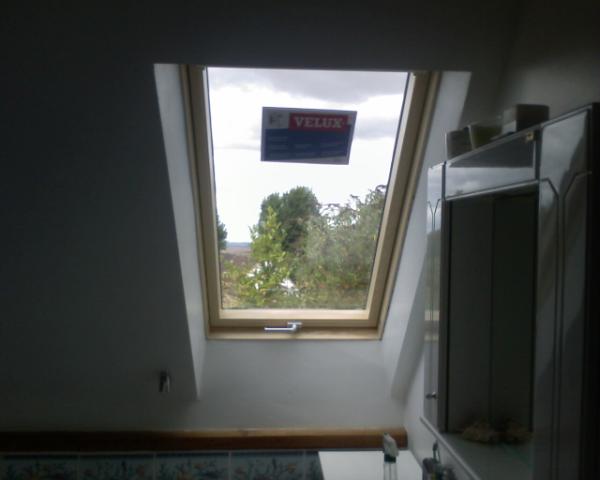 Replacement Velux window from Centre Pivot to Top Hung
Below is a pediment on a property in Crouch end, Middlesex London. The Velux installation was 2 CO4 Top Hung Triple Glazed velux windows fitted with Child safety locks. as a velux widow installer all our installations, fitting & repairing are as seen from our picture gallery.

Please note the full utilisation of space a Velux roof window can help with
Below an old roof window replaced with a bottom opening Velux SO6 45 degree opening 114mm x 118mm roof window. The velux was fitted safely without Scaffolding, most of the instalation of the installed velux was carried out from inside the loft room with vaulted ceiling.
velux loft conversion instalations
Top hung velux
Please click for Velux Products
We are the installer of new roof and velux MO6 windows installed in hampstead, London
Above our fitter installed a Velux conservation roof window to a Listed property just outside Colchester that required 2 Heritage Velux window to creat more light to the Kitchen, Both Velux windows where fitted with all making good in 2 Days.
Above is a Velux roof window fitted to a property in Crouch end, London. The velux was added to a bathroom to add additional natural light and ventilation. The Velux is top hung so the complete window opens out wards so as not to reduce head room.
Above are stages our installer went through to fit 2 Velux centre pivot roof windows fitted to a care home in Buntingford, Hertfordshire to create staff quarters. Both fitted Velux windows are centre pivot and where intalled in 1 Day by our highly trained installer.
Glazing unit Replacements

We supply and fit new replacement Velux glazing units for all Velux roof windows: The early range GGL1, GGL2, GGL5, GGL7, GGL9 and all other GGL Windows, the new range, CO1, CO2, CO4, FO6, MO6, UO4, SO6, P10, U08
| | | |
| --- | --- | --- |
| Above is a Velux roof window glass replacement, the outer glazing is broken, a new velux glass sealed unit is fitted, please call for a quote. 07956 364536 All our velux glass replacement and repair are fully guarenteed with only velux parts used. | We install all types of sun Scoops and Glide vale sun tube for piched and flat roof construction. The solar tube bring sunlight directly to a room. Often down stair rooms are dark and dingey but this can be solved with a solar tube that can even be boxed in a room above to carry natural light. Sun scoops and solar tubes are very efective up to 6 metres. | If you require more extensive works to your roof we also convert lofts and create loft extensions, above is a loft in Hampstead converted to a 1 bedroom self contained flat. 2 Dormas constructed with fully Lead coverings and 4 Velux roof windows |
If your looking for a fitter and installer for Velux Roof Windows and velux accessories we cover many areas including London, Hertfordshire, Essex, Cambridgeshire, Buckinghamshire, Middlesex. below are but a few of the Velux roof windows as a Velux installer we have fitted over the last 25 years. A velux top opening velux for a bathroom, 2 Velux centre pivot velux's for additional light to loft space and 2 Heritage Velux roof windows to add light additional light to a `16th century cottage kitchen. Over my many years fitting velux roof windows I would say that velux offer the best quality and value for money for there products with easy to access customer care, for these reasons we only fit and Repair Velux roof windows. As a 5 star Velux installer and part of the Velux installer partnership you can be assured of a 1st class installation and customer care.
Please Click on the above picture for Velux Blinds
We Supply and Fit all sizes of, standard & custom made Velux roof windows, heritage Velux windows, electric or manual. Most Velux windows can be installed in 1 day which includes all making good, plastering etc. In most cases the velux window can be fitted without the need for scaffolding as the work can be carried out from inside and this will help keep the cost down as often the scaffolding will be more expensive than the velux window and fitting put together, please note the picture's show all velux roof windows fitted safely without scaffolding to a 1st floor bathroom to add extra light and ventilation, 2 Velux roof windows being fitted to a chalet style property to create light for a Loft room & 2 heritage velux roof windows. We also offfer a Velux repair service, most velux parts can be replaced hinges glass etc. If you require futher information about Velux roof windows or their installation and fitting please do not hesitate to contact me Andy Hooper on the number below for our Velux installing service or our Velux rooflight repair service and glass fitting service.
We fit, replace and repair all GGL and GHL, GHU, GPL and GPU Windows.