Please click on this Link to view our comprehensive roofing portfolio
We offer a Complete velux Servicing service, all Velux roof windows can benefit from servicing to ensure smooth and free operation, glazing units will require changing long before a Velux window has run its life span. Blow Glazing units will cause internal dampness, restrict light, allow cold and heat to be transmitted into the room, servicing blown and worn out glazing units are a quick and cost effective way to restore a Velux roof window.


We only fit genuine Velux replacement glazing units with a full 10 years Guarantee, all glazing options and replacement units are covered by this Guarantee. IPL Glazing units for Velux windows are supplied and fitted in all Glazing combinations which includes double glazed units and triple glazed units. The options for these glazing units and options for upgrade double glazed velux glazing units are:
Velux before 2001
Standard Velux Glazing unit replacement IPL 0059C toughened outer glazing pane and standard inner Glass 15mm Gap U-value 1.7
SPECIAL GLAZING UNIT ORDERS ARE AVAILIBLE FROM VELUX
Velux after 2001
Option 1: IPL 0059 Standard clear Glazing IPL 0059 toughend outer glass and standard inner glazing with 24mm Gap U-value 1.1
Option 2 IPL 0034 Obscure inner glazing and toughened outer glazing unit with U-value 1.1
Option 3 IPL 0073 Laminate inner glazing unit with toughened outer glazing pane U-value 1.1
Option 4 IPL 0060 Laminate inner glazing with toughened outer glazing + noise reduction + easy clean U-value 1.0
Velux Glazing Replacement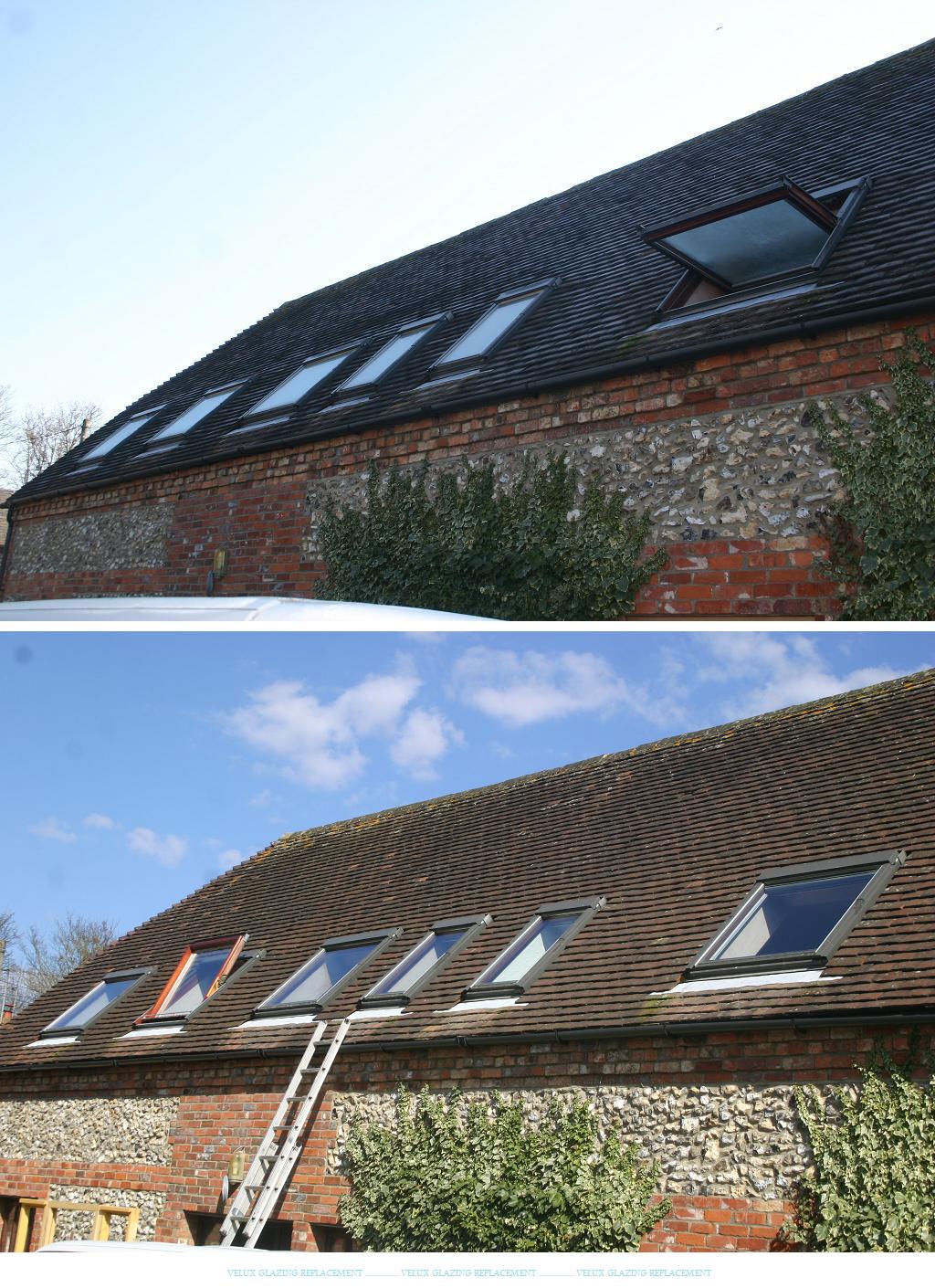 Oxford
Velux Glazing Replacement
Velux Before and After Glazing Replacent
Velux Glazing Replacement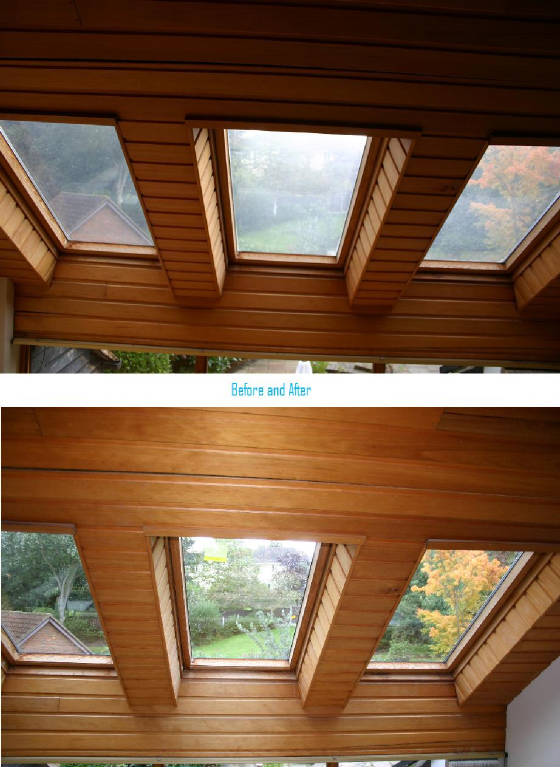 Velux Glazing Replacement Service
We Repair, Service and Replace all types of Velux Roof Window helping to improve and create natural light within the Home, Simply by giving your Velux window a new glazing unit, light rub-down and coat with natural oil, replacement of draft excluder and oil to moving parts your Velux window will serve you for another 30 years. Please call or e-mail me for a free Quote.

By simply fitting a new IPL Glazing Replacement Unit to an existing Velux it can transform a room and give your Velux roof window a new lease of life. We fit all sizes of replacement glazing units to all sizes of velux roof windows, most replacement glazing units can be fitted within an hour, if you feel your Velux is to old and could do with replacing we also provide a complete and comprehensive Velux roof window renewing & fitting service with 1000s of Velux installations completed in and around London Hertforshire Bedfordshire Cambridge Essex Kent & Buckinghamshire . If you could benifit from our Velux Glazing Service or our complete Velux fitting / installing service please call today for a free quote. We also carry out a Velux upgrade service due to the fact that Velux have extended the range of windows they offer, one of the most popular upgrade velux windows is the white internal finish which can often match today's modern contemporary living style. Velux have also vastly improved there thermal values with better insulation and glazing units with triple glaze as one of velux's options, top hung velux windows also have become very popular for low level instalations as they open to the outside and do not infringe on the living space in the loft room.

Velux Glazing Replacement
Supplied & Installed Velux Glazing Replacements



Velux Glazing Replacement Unit repaired on a property in Highgate, London. The seal between the double glazed unit had blown causing the unit to mist over, this will cause heat loss as well as condensation which over time will damage the velux frame. We supply and fit new glazing units which is a cheaper alternative to replacing the whole window and often offers the same result as can be seen in the pictures.
Velux Glazing Replacements
We supply and fit all types of Velux glazing units, all the glazing units we fit are original Velux sealed units glazing replacement to a velux roof window and transform a room as when the glazing unit breaks down and needs replacement it not only looks unsightly but also makes a room feel unpleasant, we spend good money on having windows cleaned so it makes sence to change a broken down sealed window unit to make them worth cleaning. we have a couple of the thousands of velux roof windows pictured on our website and as im sure you will agree changing the velux glazing pane is money well spent. All our velux glazing unit replacements are fully guaranteed and we replace all velux types from top hung to centre pivot, electric to manuals veluxes,
ggl-1 ggl-2 ggl-3 ggl-4 ggl-5 ggl-6 ggl-7 ggl-8 ggl-9 co2 co4 mo4 mo8 so6 p10 fire exit windows solar velux and many more, weather it be and upgrade to a velux window or glazing unit or just a repair we cover all your velux roof window needs under one roof. Roof window Glazing and glass replacements on site, the glass is safely removedand new glass replacement is installed with new glass seals. Standard glass from Velux is toughened outer glass with standard inner glass, this glass can be up graded to laminate glass if required laminated glass is advised when the glass replacement is above shower or bath or in a high place such as stairwell. All glazing and glass products we us are original Velux glass installed by Velux approval so you can be sure the glass unit fitted is of the correct standard for the window. Not fitting Velux own glassing unit can be a false economy as the will not stand up to the harsh conditions that Velux windows have to deal with sun, wind, rain etc also any Guarantee on the window will be lost. There are several options for Glazing units and the type of glass and vary from standard glass to Laminated glass and toughened glass there is also misted glass for bathroom windows etc.