Mobile: 07777 697723
office: 01992 464131
E-mail to: Andrew1Hooper@btinternet.com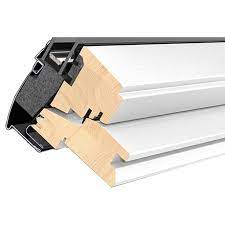 We cover the full range of Velux Replacement windows, all replacement windows are covered by Velux 10 year Guarantee. Your Velux can be upgrade with the minimum of disturbance with scaffolding not required on most replacements, most single and some double replacements can be completed in one day. There are many different reasons to replace old Velux windows as Velux offer a wide range of product choices with the new White Painted and Polyurethane options very popular and the new generation Velux windows launched a few years ago offering additional glazing for added light and much higher insulation value for cost effective heat savings.
Velux Laminated & Toughened Glass and Glazing Replacement units, when a glazing unit breaks down the unit will become misted with water forming internally, we fit only Velux Manufactured glazing replacements and upgrade kits on older Velux windows to convert the units to Laminated inner safety Glass, all Velux Glazing Replacement units come with a 10 year Guarantee on Labour and Parts
Replacement Glazing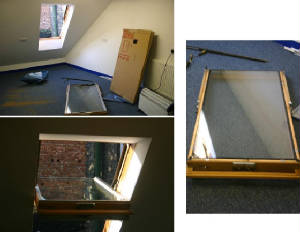 Laminated Glazing Replacement
We supply and fit replacement IPL Glazing units for all types of Velux roof windows, we offer a like for like glazing unit and can often quote for the glazing replacement with just the code of the Velux which can be found in the top right corner of the opening sash of the window. All early Velux glass units were toughened outer pane and standard inner pain which can be replaced in the same spec, if you would like the glazing unit upgraded this is possible but not alway practical and we will offer our best advice on the practaclity of this. options for Velux glazing units are Toughened outer standard inner
Laminated inner glazing Toughened outer glazing pane
Laminated inner glazing, toughened outer glazing pane, Easy-to-clean coating, enhanced noise reduction
Obscure laminate inner glazing, toughened outer glazing pane

We Repair, Service and Replace all types of Velux Roof Window helping to improve and create natural light within the Home, Simply by giving your Velux window a new glazing unit, light rub-down and coat with natural oil, replacement of draft excluder and oil to moving parts your Velux window will serve you for another 30 years. Please call or e-mail me for a free Quote.

By simply fitting a new IPL Glazing Replacement Unit to an existing Velux it can transform a room and give your Velux roof window a new lease of life. We fit all sizes of replacement glazing units to all sizes of velux roof windows, most replacement glazing units can be fitted within an hour, if you feel your Velux is to old and could do with replacing we also provide a complete and comprehensive Velux roof window renewing & fitting service with 1000s of Velux installations completed in and around London Hertforshire Bedfordshire Cambridge Essex Kent & Buckinghamshire . If you could benifit from our Velux Glazing Service or our complete Velux fitting / installing service please call today for a free quote. We also carry out a Velux upgrade service due to the fact that Velux have extended the range of windows they offer, one of the most popular upgrade velux windows is the white internal finish which can often match today's modern contemporary living style. Velux have also vastly improved there thermal values with better insulation and glazing units with triple glaze as one of velux's options, top hung velux windows also have become very popular for low level instalations as they open to the outside and do not infringe on the living space in the loft room.

Velux Glazing Replacement Hatfield
Velux Repairs and Glazing Replacement
Often the only fault with a Velux roof window is the Glazing unit, Double glazed glazing units can be prone to breaking down over time and this will lead to the glazing unit to mist over and collect condensation on the inside pane which in time will cause damage to the velux frame. We offer a velux replacement glazing unit service supplying and fitting the glass glazing unit in often less than 30 minutes, we also service the window and hinges at the same time often changing draft foam and generally giving the velux a good clean. As can be seen by a few of our replacements illustrated on our website just changing the glazing unit will transform a room and extend the life of the velux window. Our IPL replacement glazing units are all manufactured by velux with a 10 year guarantee. We offer glazing upgrades from double glazed to triple and can upgrade a glazing unit from standard to laminate for added safety. Old blown glazing units lose there thermo values so early replacement of these units is highly recommended and early intervention can quickly recoup costs of the new replacement glazing units, improve the feel and light in a room and improve life style and standard of living so replacing an old glazing unit with new glazing unit is a win win, call me today for a free quote : Andrew 07777 697723

We only require a few details about the Velux Window to provide a Free Quote, The Velux code required can be found on the top right corner of the opening sash, for older Velux Windows the code will be GGL- Number or GHL-Number the older Velux windows will require Velux conversion kits to allow the glazing units to be upgraded to 24mm gap from 16mm, the new 24mm Glazing unit will also have Laminated inner safety glass and toughened outer glazing. Velux windows manufactured after 2001 and before 2014 will be coded with C01, C02, C06, M04, F06, M06, M08, U04, P08, S06, P10, U08. Velux Windows after 2014 will be coded CK01, CK02, CK04, CK06, MK04. FK06, MK06, MK08, UK04, PK08, SK06, PK010, UK08. Velux Glazing codes for Glazing options are: IPL 0034, IPL0073, IPL0060, IPL0034, IPL0070, IPL0060
We supply and fit all types of Velux glazing units, all the glazing units we fit are original Velux sealed units glazing replacement to a velux roof window and transform a room as when the glazing unit breaks down and needs replacement it not only looks unsightly but also makes a room feel unpleasant, we spend good money on having windows cleaned so it makes sence to change a broken down sealed window unit to make them worth cleaning. we have a couple of the thousands of velux roof windows pictured on our website and as im sure you will agree changing the velux glazing pane is money well spent. All our velux glazing unit replacements are fully guaranteed and we replace all velux types from top hung to centre pivot, electric to manuals veluxes,
ggl-1 ggl-2 ggl-3 ggl-4 ggl-5 ggl-6 ggl-7 ggl-8 ggl-9 co2 co4 mo4 mo8 so6 p10 fire exit windows solar velux and many more, weather it be and upgrade to a velux window or glazing unit or just a repair we cover all your velux roof window needs under one roof. Roof window Glazing and glass replacements on site, the glass is safely removedand new glass replacement is installed with new glass seals. Standard glass from Velux is toughened outer glass with standard inner glass, this glass can be up graded to laminate glass if required laminated glass is advised when the glass replacement is above shower or bath or in a high place such as stairwell. All glazing and glass products we us are original Velux glass installed by Velux approval so you can be sure the glass unit fitted is of the correct standard for the window. Not fitting Velux own glassing unit can be a false economy as the will not stand up to the harsh conditions that Velux windows have to deal with sun, wind, rain etc also any Guarantee on the window will be lost. There are several options for Glazing units and the type of glass and vary from standard glass to Laminated glass and toughened glass there is also misted glass for bathroom windows etc.