Mobile: 07777 697723
Office: 01992 464131

Email: Andrew1Hooper@btinternet.com

Roof Repair
Plain Tile Roof Repair
To the left is a roof repair carried out in Hertford Road Hoddesdon, as can be seen the roof tiles have completely broken down from exposure to the elements, the whole roof has been stripped, insulated, felt and battens and new plain tiles fixed.

Below is a new tiled roof we renewed in Highgate London, the roof was stripped of all roof tiles and battens, all roof slopes were felt and battened with Tanalised tiling battens and Tyvec breathable felt fixed with Galvanised nails. We re-tiled the roof using Clay Keymer Shire roof tiles, the roof used Keymer shire clay tiles, bonnets, valley tiles and ridges and all roof slopes were insulated. All hanging tiles were replaced with new Keymer Shire Clay roof tiles and Lead details renewed, all chimey stacks were re-pointed. The lower lower bays were stripped and renewed in Keymer shire clay roof tiles with close cuts made to hip abutments. This roof renewal was carried out in 2007 in Broadlands Road Highgate London and can be seen today as a fine example of our workmanship.
Complete roofing renewal in Highgate London
Roof renewed with Clay Plain tiles, bonnets, valley tiles etc
On the left are more picture of Broadlands Highgate roof renewed in Keymer Shire clay roof tiles, the roof construction was complicated with many roof details that gained a pleasing aesthetic appearence
Roof Construction and Roof Tiling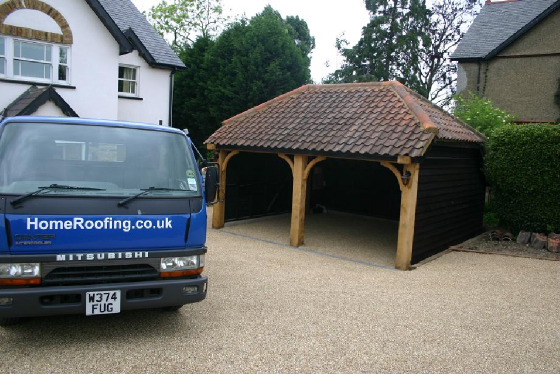 Hertford, Hertfordshire
On the Right is a carport roof contruction in Hertford Hertfordshire, the roof is in clay bold roll roof tiles as the property is listed in a conservation area of Hertford

Roof Repair Service
Roof Repair, Broxbourne, Hertfordshire
On the left is a tiles roof renew in Broxbourne Hetfordshire, the roof is know as a chalet style property with a very steep pitch to the roof construction, on this property we stripped the roof of all existing roof coverings and renewed in Marley modern roof tiles with new Tanalised battens and breathable felt. We also renewed all the Velux roof windows replaceing the existing pine centre pivot windows with top hung white finish, the velux top hung are much prefered if the Velux is at eye height as the Velux does not invaid the room when open ths creating more living space

We carry out all types of roof tiling with interlocking roof tiles from marley modern to redland Roman roll. Most roofs are fitted with interlocking tiles as they are more cost effective than the plain and peg tile, this is mainly due to the easier and quicker instalation which keeps the labour costs down. There are many diffrent types of tile and can be veiwed at Marleys web site please click
HERE
to view. To roof tile chosen for difrent properties can greatly inhance the look of the roof and property so it is worth spending some time veiwing the diffrent roofing materials on the market and also there suitability for your roof ie pitch etc.